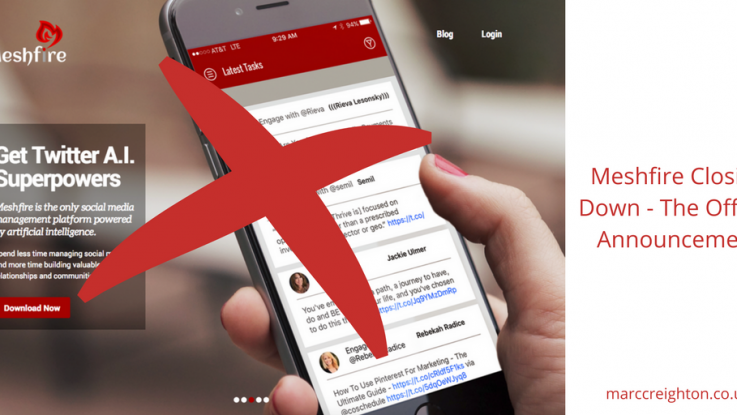 News of Meshfire closing reached my inbox today. As of 30th September 2017, the brilliant Meshfire would be no more.
Meshfire Closing Down - The Official Announcement
Five years ago, we set out to change the way that people use Twitter with artificial intelligence to help you find the people, conversations, and opportunities that get lost in the flood of activity.

We're proud of what we've built and the grateful for the wonderful supporters we've gained along the way, but in the time since we started, Meshfire has not found the growth it needs to survive.

Because of that, today we must sadly announce that the Meshfire service will shut down effective September 30, 2017.

Until then, you can still download any statistics data that you have in the Meshfire system. If that data is helpful to you, we recommend downloading it soon.

As of September 30, we will refund any credit left on any paid subscription, either by direct refund to your credit card if possible, or by check if not. Please contact me if you have any questions regarding credits or refunds.

All hope is not lost: We are actively looking for a new home for the Meshfire core technology, in the hope that our work may someday find a new life.

Thank you for your kind support these past years, and may the future bring you all you aim for.

Sincerely,
Eli Israel
Meshfire CEO
Sad Times
I spoke at length in my previous blog post about just how good Meshfire was. In many ways, it was the forerunner to many social media 'Artificial Intelligence' applications that are now available.
Having been heavily targeted at the gaming community, strangely, in my opinion, it appears from the official announcement that this was a far too narrow focus for it to gain the traction it needed to survive. Meshfire closing down is sad, and I, for one, will be sorry to see its demise.