What can Bing Ads do for your business?
What a Bing Accredited Professional can do for your business
I can take the hassle out of running your Bing Ads account (I also manage social media for businesses)
Drive traffic to your website and in turn drive sales revenue
Optimise your adverts for the best results
What I will not do
Make false promises
Charge you a fortune
Tie you into lengthy contracts.
Bing Ads Features
Customer Targeting:
Shopping Campaigns – Manage Product Ads more efficiently and help your business get more targeting control and deeper performance insights
Remarket your adverts – Help your business optimise your ads, bids, and keywords for high-value customers, like those who visited your homepage or abandoned a shopping cart

Location Targeting – Make the most of your budget by targeting searchers in selected cities, counties, and postcodes (The UK only) or within a specified radius.

Demographic Targeting – Get quality traffic by serving more relevant ads to your audience. Target and adjust bids based on age and gender

Device Targeting – Control when, where and on what device your business ads connect with customers based on what's best for your business.
Extend Your Ads
Call Extensions – Connect searchers to your business with a clickable phone number. Potential clients are just a tap away from speaking to you

Location Extensions – Drive foot traffic, not only Web traffic, to your business by displaying your address, a phone number and a directions link in the ads.
Bing Search Statistics – March 2017
Vital Statistics:
Worldwide:
9% Market share
12 Billion monthly searches.
Europe:
9% Market share
3 Billion annual searches.

Ireland – 8% Market share and 17 million monthly searches
United Kingdom – 26% Market share and 977 million monthly searches.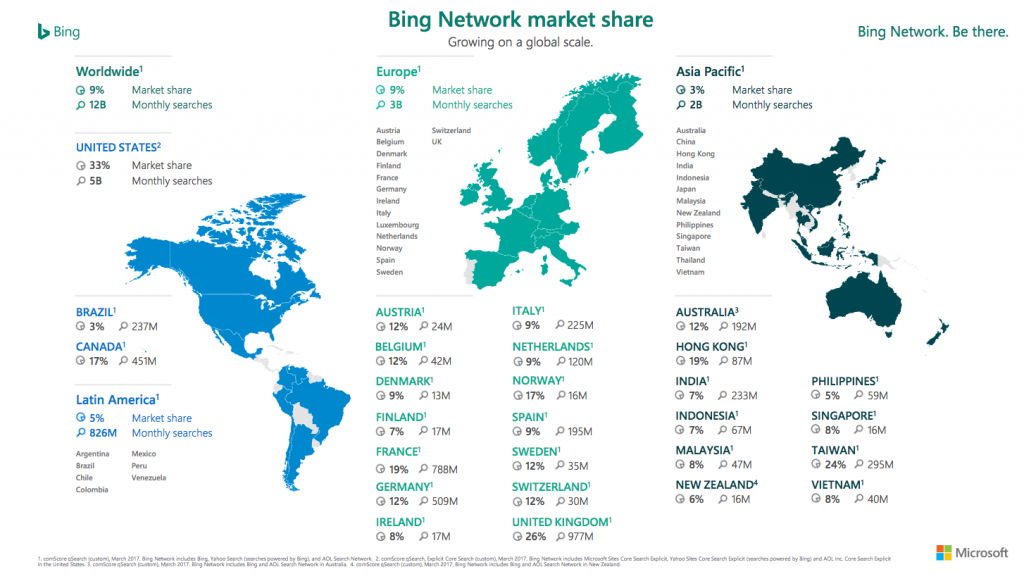 Despite the work involved, I have taken the 'Bing Accredited Professional' exam again this year here's why.
Why I Became a Bing Accredited Professional?
The Accredited Professional program gives me the training and resources I need to become an expert and get the most out of Bing Ads for myself and my clients. Upon becoming an Accredited Professional, I, among other benefits:
Receive an official member badge, which makes it easy for others to recognise me as a Bing Ads expert
Increase my industry recognition
Be placed in the Accredited Professional Membership Directory
Market me and my business through Find a Pro
Enjoy updated profiles that include social media, the ability to share and more
Build my CV.

For an informal chat about how I can help your small business grow using Bings Ads drop me a line or get in touch via Socialmediamanager.ie. Alternatively, take a look at my Google and Hootsuite certifications.