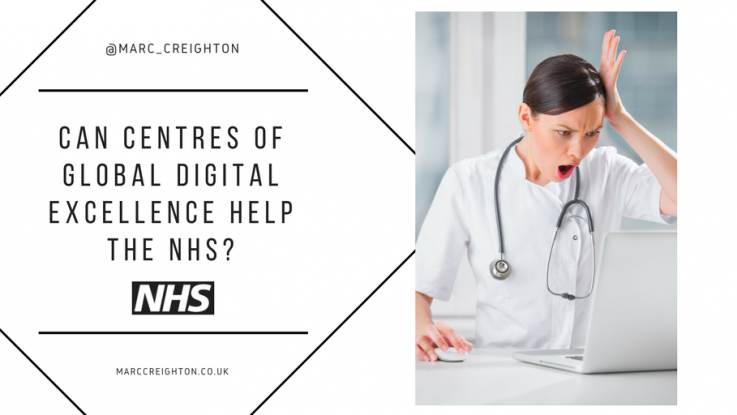 Back in August 2016, NHS England announced a £100 million funding pot to set up centres of global digital excellence within the NHS. The original plan was to allow trusts to bid for up to £10 million each for investment in digital infrastructure and specialist training. Twenty-six trusts were already deemed to have been 'already advanced in their use of technology in hospitals'.
In the words of the official announcement;
Once established, the centres will lead the way for the entire system to move faster in getting better information technology on the ground, delivering benefits for patients and sharing learning and resources with other local organisations through networks.
An ambitious plan indeed. Fast forward one month, and 12 Trust's had been selected. Known as "digital exemplars" (another great NHS buzzword in the making there) they were to be given £10 million each to 'inspire a digital revolution across the health service'.
Global Digital Excellence Centres
Selected Trusts (announced Sept. 2016)

North
Salford Royal Hospitals Trust
Wirral University Teaching Hospital
City Hospitals Sunderland Trust
Royal Liverpool and Broadgreen University Hospitals
Midlands and East
West Suffolk Hospital
University Hospitals Birmingham
Luton & Dunstable University Hospital
London
Royal Free London Hospital
South
Oxford University Hospitals
Taunton and Somerset
University Hospitals Bristol
University Hospitals Southampton
New additions for February 2017
Cambridge University Hospitals
Imperial College Healthcare and Chelsea and Westminster Hospital NHS Foundation Trust (a joint partnership).
New additions as of April 2019
Alder Hey Children's Hospital
Newcastle upon Tyne Hospitals Trust
NHS England chief information officer, Will Smart, confirmed only four acute trusts were immediately being funded as global digital exemplars (as of February 2017).
Trust selection
According to the official NHS England selection criteria;

High Digital Maturity self-assessment scores for 'readiness' and 'capability'.
So any trust can 'self-assess' and pass themselves off with a good score on 'readiness' and 'capability' without any independent verification. Let's take the recent addition of Cambridge University Hospitals NHS Foundation Trust, a fantastic hospital in my opinion (as an ex-employee), but a failing one in the past few years. Placed in special measures under two years ago and tainted with the costly and shambolic roll out of the 'EPIC' IT system in 2014. Indeed not a global digital excellence centre in the making.
Involvement in innovative digital healthcare initiatives
Notice the word 'involvement', not a track record of 'success', just 'involvement'. Something I am sure 95% of trusts could claim I suspect.
Representation of a range of different solution types
Anybody that works in within the NHS would testify to passing this one. Therein lies the problem with IT in most NHS trusts, a plethora of 'legacy' IT systems that hold back any innovation or progression. I suspect all trusts would pass this one.
NHS Improvement confirmation that organisations will be hindered in their ambitions due to other issues
Firstly, let's define what NHS Improvement is:
NHS Improvement is responsible for overseeing foundation trusts and NHS trusts, as well as independent providers that provide NHS-funded care. We offer the support these providers need to give patients consistently safe, high quality, compassionate care within local health systems that are financially sustainable. By holding providers to account and, where necessary, intervening, we help the NHS to meet its short-term challenges and secure its future.
So assuming NHS Improvement have to 'confirm that organisations will be hindered in their ambitions due to other issues', they will have assessed each submission and supplied supporting evidence for the application. Where is this evidence? What are the 'other issues' that hinder a trusts ambitions?
Budget
The original budget was £100 million, it is evident that this will be exceeded, or possibly extended. Here are my calculations:

Initial Twelve sites

12 x £10m = £120m – Over budget by £20m already

Two more sites added

14 x £10m – £140 – Over budget by £40m now

Six mental health trusts to be added

20 x £10m – £200 – Budget doubled
Return on Investment
How will 'success' be measured? Despite numerous emails, I have failed to get an answer from NHS England on this matter.
Conclusion
Once you cut through the buzzwords and straplines, you can see that this project has real potential to improve IT systems and ultimately patient care within the NHS. In response to "Can centres of global digital excellence help the NHS?" Yes, they can. Sadly and unfortunately though, the NHS has an appalling record when it comes to large IT projects, such as NPfIT and Care.Data. Unfortunately, this feels very similar, albeit on a smaller scale and due to this, it will be a success in a limited number of locations and fail in a more significant amount.  Shelving it quietly in a few years will be the most likely outcome.
While I am sure this programme has been put together with the best intentions, it appears the execution leaves a lot to be desired once again. Let me know your thoughts.
Despite all this investment and since I first wrote this post, NHS Digital is now pushing for more Trusts to migrate to cloud services such as Amazon Web Services. In this post, I explore how AWS helps the NHS with Artificial intelligence.