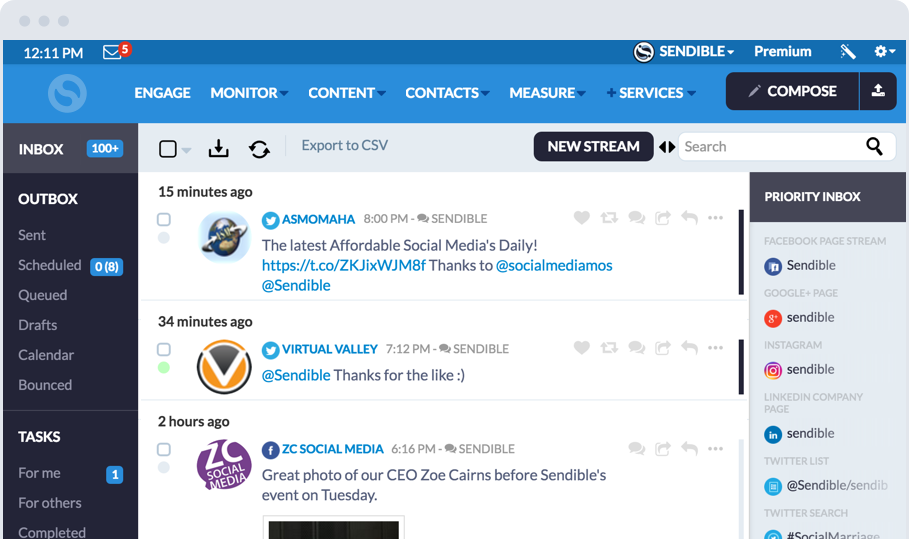 Sendible Review
Social Media tools, they're all the same, right? Wrong.
Using the right social media tools are critical to the success of your campaigns. Not two tools are the same. I'm a big fan of
Hootsuite
and am certified by them. I'm also frustrated by it, frustrated by its add on, some say hidden costs. These frustrations led me to look at other platforms, which is where
Sendible
comes in. So, what's not to like about Sendible? Not a lot. Here's my Sendible review.

Sendible History
Started by technology entrepreneur Gavin Hammar in 2009, just as the world saw the value in social media as a business communication tool. Sendible will celebrate its 10th birthday in March 2019. Used by thousands of organisations, including famous brands, city councils, and digital marketing agencies. It's the original 'startup' that has gone from strength to strength. Based in London, UK it employs around 25 people. The Sendible management team.
Key Features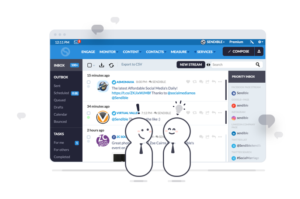 Sendible has all the essential features you would expect from a social media management platform. Including, the scheduling of posts, drafting of posts and the ability to assign posts to other team members. On top of all the 'standard' stuff you'd expect, you get;
Priority inbox – This displays mentions, messages, retweets, etc. While not in real time, it's updated at intervals defined by your price plan

. Delivery can be between 15 minutes and 2 hours

Mailing lists and contacts – Integrate your subscriber mailing list on your website
Email templates – Build and send your contact list newsletters from within the web interface (not completely free)
Content Library's – Great for creating pre-approved, boilerplate content
Blog posts – Create blog posts for your website in Sendible. While it can be a little clunky, it's still a useful feature
Social listening – From here you can track your brand's keywords and react to both positive and negative feedback.
Pricing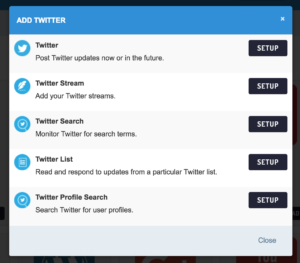 Here's where Sendible differs from many of the social media tools. Most price things by the number of social networks you connect, in batches of 1, 3, 5, 10, etc. Sendible prices by 'service'. A 'service' is defined as ' interaction with any social network account such as Facebook, Twitter, Instagram or blog. Including, posting, monitoring and automation services like RSS Auto Poster, keyword searches, and automated welcome messages'.
I wasn't keen on the 'services' pricing structure, but over time I've warmed to it. Cutting out social media noise is essential, and this model helps. Add only the service you need, and it works great.
Pricing packages include some services and users at each level starting at €49 pm (paid monthly).
Pro's
Feature-rich – see above
Support is friendly and very responsive via email and Twitter
Comprehensive reporting and analytics included, by comparison, Hootsuite charges $60 pm for you just to print reports.
Con's
The cost, while this is competitive compared to other similar platforms, it could be prohibitive to bloggers, small business, and social media enthusiasts. However, when you factor in the additional functionality, in my opinion, it is worth more
There are a few bugs with both the browser interface and mobile application. Despite these bugs, things still work well. Printing of custom reports and items re-appearing in your priority inbox being two
It's challenging to track mentions/messages in real time without adding these as services. See 'priority inbox' above.
While not perfect, few social media tools are, Sendible is about as close as you will get to perfect. Let me know your thoughts and recommendations for social media tools either here or on Twitter.
Disclaimer: I am in no way associated with Sendible and have not been rewarded in any way for this post. I am an 'unofficial' product advocate. If you do wish to take up a 10% discount on your subscription, then please use my code 177071, and get 10% off your plan – Get Started
Find out about another of my favourite social media tools – Meshfire